The Electric Guitar Renaissance
In January, 2005, the worship leader, Eric, put out the schedule. I noticed my name with the listing "electric guitar" and said, "But I don't play the electric guitar...<think>...yet." I had not owned an electric for 25 years (though I took my lessons on one), but I knew that the electric plays a very important role in contemporary music. If I could master the instrument, my ability to contribute to the worship effort would double. And my experience on the 414 had given me a gentle preparation.
Eric graciously loaned me his Heartfield until I could get my own, and, to my lasting surprise, I started to get "the bug." This instrument was a wild stallion that needed taming. Though the fretboard is similar, in contrast with the acoustic guitar, this adds a few...parameters:
string-bending techniques
tremolo bar
multiple pickups with a five-position switch
multiple preamp types (eight on Mission Control)
dozens of effects
And all of these have to be managed with extreme competence so that the required sound and playing styles can be switched between seamlessly on stage!
When I ordered my guitar, I was told it would be some time before it came in. Guitar Center said I could borrow one of my choosing, so I found one well-suited for church (see pic).
Finally, my Ibanez RG1570 arrived. Behold the Prescription for my midlife crisis: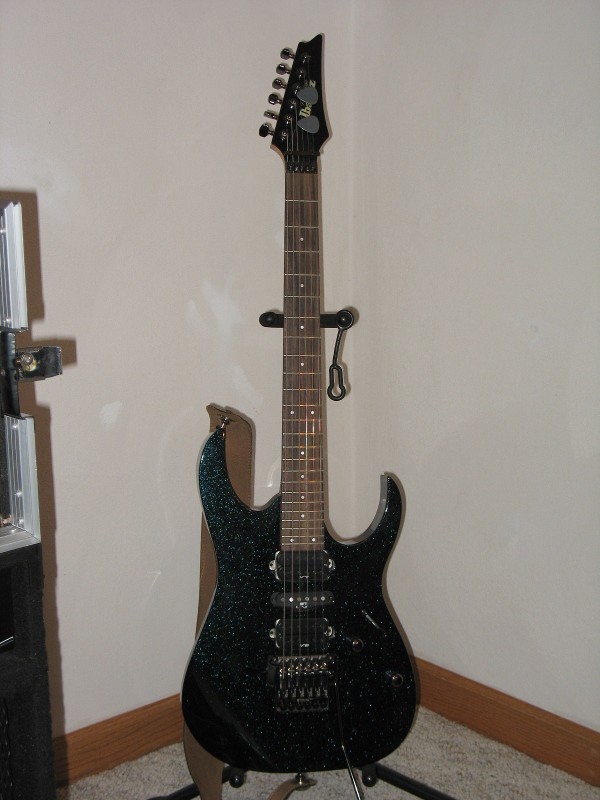 The "glitter" comes from thousands of tiny blue and green slivers suspended in a deep-blue translucent finish and is amplified by the camera flash--not easy to capture in a photograph. They call it "mirage blue."